News
Human Resources Job Opening
Please submit your resume through 104 Human Resource Bank website if interested.
http://www.104.com.tw/jobbank/custjob/index.php?r=cust&j=4c4a426c406c3e235a
323b1d1d1d1d5f2443a363189j99&jobsource=checkc
Exhibition Information
14TH Auto Expo Components 2018
展期: 2018年2月8日-2月11日
地點: 新德里(Pragati Maidan展覽館)
http://www.chanchao.com.tw/webdm/2018/Automotive/India/
4th International Conference on Powder Metallurgy in Asia
展期: April 9 (Sun)~11(Tue),2017
地點: Sheraton Hotel, Hsinchu, Taiwan
2015台北國際汽機車零配件五合一展
展期: 2015年4月8日-11日
Saigon International Autotech & Accessories Show 2015
地點:西貢會議展覽中心 Saigon Exhibition & Convention Center(SECC)
2015年泰國模具加工技術設備及汽配展
地點:泰國 曼谷 BITEC
History
* 「新竹縣環保局105年度環保績優單位頒獎典禮暨低碳社區成果發表會」,本公司獲新竹縣縣長邱鏡淳頒發企業協助道路認養維護市容感謝狀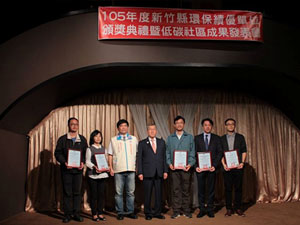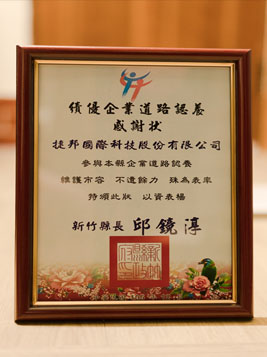 * In July of 2014 and March of 2015, along with our subsidiary companies, we acquired 100% of the shares of IKKA, and we own 51% of the shares. IKKA is a major manufacturer for automobile components, molds and accessories in Japan, with international sales locations in China, Hong Kong, Vietnam and Malaysia. And their clients include major Japanese automobile part manufacturers such as Aisin Seiki, NSK and Advanex. As Jabon's powder metallurgy is widely used in transmission and automobile components, we hope to combine IKKA's existing technology and channels with our own products to branch into higher grossing markets, and conduct business in the existing IKKA clientele to maximize profitability for our stockholders.
* 103/4/3 According to the requirements of commitment for OTC (over the counter), as well as the spirit of company governance, the company participated CG6008, Company Governance System Assessment, held by Chinese Corporate Governance Association, passed the assessments by the assessment committee on April 3rd, 2014, and was certificated in the ceremony on April 18th, 2014.
To advance the governance level and system of listed and OTC companies in Taiwan, Chinese Corporate Governance Association conducted assessments with 80 indexes in 6 domains, including "protection of shareholders' interests", "enhancement of information transparency", "enhancement of the functions of board of directors", "exertion of supervisor functions", "disciplines and communications of management level", "respect of stakeholders' rights", by referring to foreign assessment systems.
The company has passed the assessments after critically evaluated and practically visited by committees of Corporate Governance Association and Study Team with the affirmations for the practices of company governance, the maintenances of employees and shareholders' rights, the formations of company governance culture, the creations of sustainable values of enterprise, and the determination to devote social responsibilities.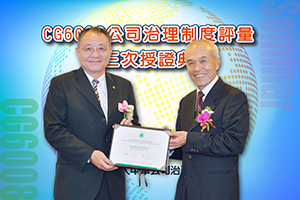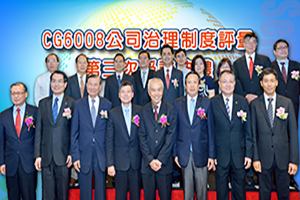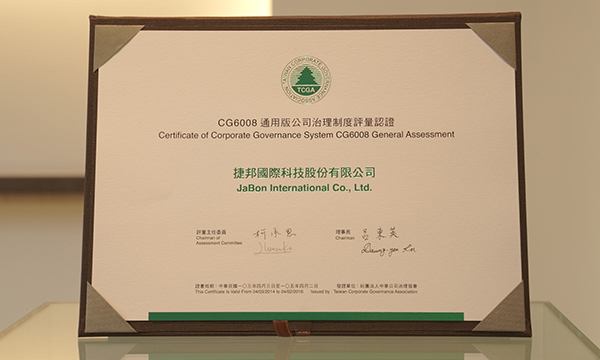 * Excellent Vendor Prize by Hsinchu County Industrial Association awarded in 2014, 2013, 2011, and 2010.
2016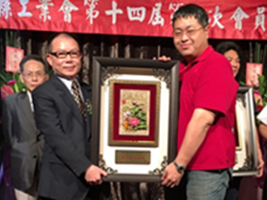 2015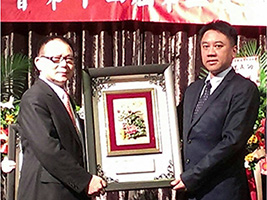 2014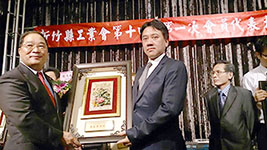 2013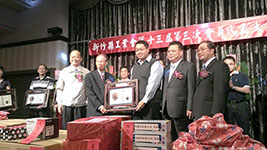 2011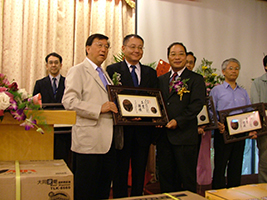 2010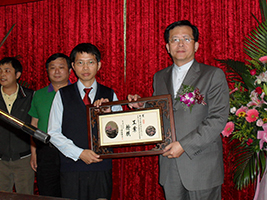 * July 2012, the organization was reshuffled to "GB & PM Group" and "3C Group" to coordinate operation policies.
* January 12, 2011, the goal to be listed in OTC was successfully completed. The company was listed at 9:00 am on January 12th, 2011 on GreTai Securities Market with coded 1566.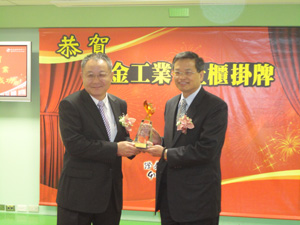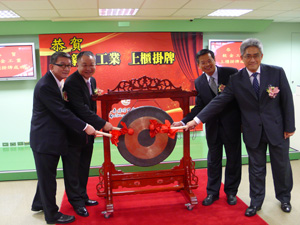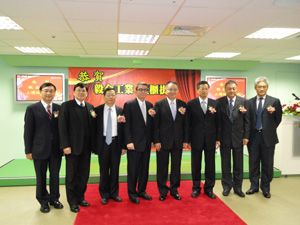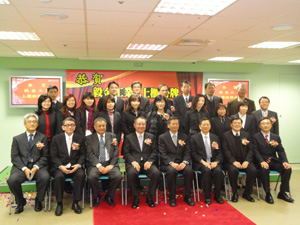 * 本公司之道路清掃認養作業,獲新竹縣環保局成效優良單位並刊載於新竹縣資訊交換平台上 
http://adoption.hcepb.gov.tw/

* 105/7/23(六)本公司年度親子家庭日-劍湖山遊樂世界一日遊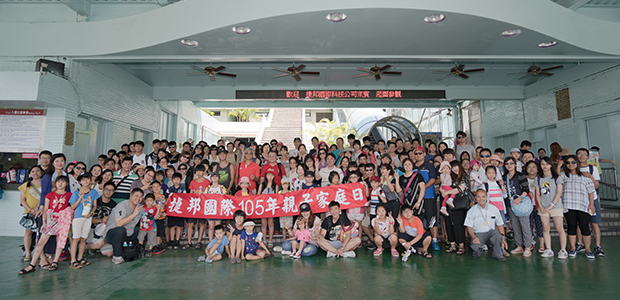 Research & Development Results
Technical and R&D conditions
The major products of the company are powder metallurgy sintered products (including oil bearing, ferrous parts, stainless steel parts). In addition to traditional mechanical parts, the company also develops and expands power metallurgy sintered products to different territories.
(1)R&D in years
1996: Developed aluminum sintered fins for heat sink used on computer CPU.
1997: R&D and engineering departments worked together to covert copper sinter furnace to carburizing furnace.
1998: Introduced sinter-hardening alloy steel powder to apply to ferrous sintered parts that require high hardness.
1999: Temperature and Pressure Molding Production Line was established, and the mass production successfully started.
2000: Developed oil-less bearing shaft together with technology companies.
2001: Developed thin frame to collect radio waves used on wireless network card for electromagnetic immunity, which is patented.
2002: Developed and designed electric tool gear box, and the mass production successfully started.
2003: Conducted the researches and developments of welding performance between heterogeneous metals of automobile components.
2004: Developed secondary copper infiltration method and start the mass production. Formation of helical teeth and the mass production technologies. Conducted and completed "Study of bonding properties for hard welding sintered-hardened alloy cam component".
2005: "The study of hardened treatment for laser surface of electric impact bit" was completed.
2006: The R&D for "soft magnetic composite material applied on DC motor" was completed.
2007: "Abrasion resistance study for diluted-bronze sintered material to replace aluminum bronze casted sleeve" was completed.
2008: "Abrasion resistance performance study for surface densification of sintered alloy steel" was completed.
2009: "Densification performance study for cold forged powder metallurgy" was completed.
2010: 1."Abrasion resistance study for cold forged powder metallurgy part used on the slider of nail puncher" was completed.
2.Self-lock device and electric driller and screwdriver that are provided with self-lock device, which is the product of the client, BDC, under R&D.
2011: Project for service of powder metallurgy technology was completed.
2012: The abrasion resistance study for cryogenic treatment to output shaft lock device of sintered-hardened alloy is undertaking.
(2)Patent Application and Obtainment in years

| Patent Description | Applied Area | Patent Period |
| --- | --- | --- |
| Electromagnetic Immunity Device and its production methods (Invention Patent No. 168225) | Taiwan | 2002.11.21-2021.05.20 |
| Electric Tool Gear Box (New Type Patent No. M247372) | Taiwan | 2004.10.21-2013.10.27 |
| Electric Tool Gear Box (New Type Patent No. 694572) | China | 2005.04.20-2013.11.02 |
| Output Torque Lock Device of Electric Driller Tool (New Type Patent No. M256787) | Taiwan | 2005.02.11-2014.02.25 |
| Output Torque Lock Device of Electric Driller Tool (New Type Patent No. 685409) | China | 2004.03.05-2013.03.04 |
| Lock Device of Electric Tool Output Axis (New Type Patent No. M257262) | Taiwan | 2005.02.21-2014.02.20 |
| Lock Device of Electric Tool Output Axis (New Type Patent No. 685118) | China | 2004.03.25-2013.03.24 |
| Electric Tool Gear Box (New Type Patent No. M274181) | China | 2005.09.01-2015.03.16 |
| Lock Device of Electric Tool Output Axis (New Type Patent No. M274180) | Taiwan | 2005.09.01-2015.03.16 |
| Electric Tool Gear Box (New Type Patent No. 785364) | China | 2005.03.24-2015.03.23 |
| Lock Device of Electric Tool Output Axis (New Type Patent No. 777575) | Taiwan | 2006.05.3-2015.03.23 |
| Gear Shifting Control Mechanism of Electric Tool (New Type Patent No. 771970) | China | 2006.04.12-2015.03.17 |
| Impact Transform Structure of Electric Tool (New Type Patent No. M343562) | Taiwan | 2008.11.01-2018.06.18 |
| Impact Transform Structure of Electric Tool (New Type Patent No. 1247769) | China | 2009.07.08-2018.07.07 |
最近五年度開發成功之技術或產品

年度
開發成功之技術或產品
100年度

參與100學年教育部補助技專校院教師赴公民營機構研習服務「粉末冶 金技術深耕服務專案」。

101年度

國科會產學研究:「深冷處理對燒結硬化合金輸出軸鎖定裝置之耐磨耗性研究」。

102年度

取得「電動工具齒輪箱的定位結構」專利。
取得「電動工具變速齒輪箱」專利。
取得「電動工具齒輪箱速度調節裝置」專利。
取得「自鎖緩衝消音裝置」專利。
取得「功能和速度聯動調節裝置」專利。
取得「電動工具齒輪箱的衝擊切換裝置」。
取得「石墨散熱器及燈杯組件」。
取得「高表面積的石墨散熱器」。

103年度

取得「石墨散熱燈座」專利。

104年度

取得「用於製備人造石墨構件之組成物、粉末材料及該構件之製法」專利。
Professional Certificate